The detailed process of the new DHA License step by step with fees is listed below. If you are a healthcare professional and looking to work in Dubai or UAE you will need a professional license to get registered here. For this process, you have to apply for a new license with certain requirements. All of the documents needed, professional certificates needed, fitness tests, passport requirements, and professional requirements are listed below step by step. You will also find a detailed fee structure which will help you to apply for a new license in Dubai in no time.
DHA UAE License Requirements
Nationally accredited Educational Qualifications recognized by DHA Professional Qualifications Requirements (PQR)
Official Educational transcript(s)
Recent professional experience based on DHA PQR criteria
Log Book for the recent last 2 years for surgical specialities stamped and signed by the Medical Director or authorized person of the healthcare facility
Valid professional License/Registration from country of last employment
Valid Good Standing Certificate not older than 6 months.
Medical fitness test (if applicant's age was 65 and above), and the test should be conducted only by medical fitness centres at DHA
Valid Passport Copy
Passport size photograph
Note: PSV stands for primary source verification and means that all the documents required for licensure shall be verified directly from the original or primary source.
Assessment Requirements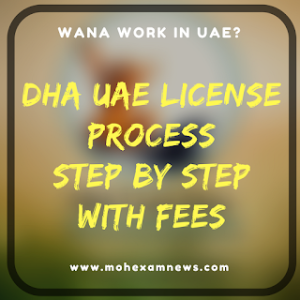 Healthcare professionals are required to pass the DHA assessment to obtain a professional license. This assessment shall depend on the healthcare professional's title and may include but not be limited to written or oral tests
Note: for oral assessment, payment must be done within 2 hours. Otherwise, the selection assessment date will be cancelled and for Prometric assessment (CBT) eligibility number will be valid for 3 months after the PSV payment.
Post-Assessment Requirements
Offer letter from recruiting facility including the professional title, facility stamp and signature of Medical Director or authorized person.
Malpractice Insurance from recruiting facility.
Note: The applicant must ensure that the facility he is opting to work for his/her speciality is listed and licensed by DHA.
New DHA License Application (Summary)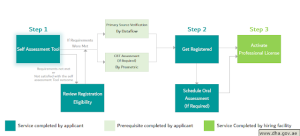 A summary of the expected fees you might have to pay for a new license from DHA. All the Fees Details (in Dhs)
Initial Fees AED 220
Primary Source Verification (PSV) – (Complete guide on DataFlow)
Physicians/Dentist AED 1235
Nurses & Allied Health AED 935
Extra Document AED 300
Assessment
Oral (Normal)
Physicians/Dentist AED 520
Nurses & Allied Health AED 270
Prometric Fees
Physicians/Dentist USD 210
Nurses & Allied Health USD 170
Issue License Fees
Physicians/Dentist AED 3020
Nurses & Allied Health AED 1020
Delivery fees
Physicians/Dentist/ Nurses & Allied Health AED 20 payable cash upon delivery
Timeframe
Credentialing (application review): 2-4 weeks
Primary Source Verification (PSV): it will be processed 48 hours after payment.
Assessment
Prometric Assessment (CBT): based on Prometric assessment schedule
Oral Assessment: based on the DHA assessment schedule
Upload labour card and Insurance
5 working days after application submission
Issue license: 2 working days
All of these details are taken from the Dubai Health Authority (DHA) website available for free. It is for educational purposes only.