Dubai Pharmacy College for Girls is the first pharmacy higher education institution in the Gulf Region. It was established in 1992. The college is dedicated to educating aspiring Muslim girls in the field of pharmacy sciences.
In this overview, we discuss the below points about Dubai Pharmacy College for Girls
Establishment and Background
Programs Offered
Admissions
Scholarships and Financial Aid
Location & Facilities
Why Join Dubai Pharmacy College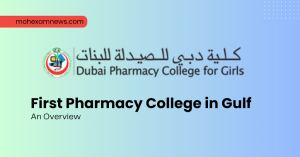 This pharmacy college in Dubai offers a Bachelor of Pharmacy (BPharm)
degree program, which is a 4-year program Bachelor's degree in Pharmacy.
The tuition fees for the B.Pharm program at DPC are AED 45,000 per year for UAE nationals and AED 50,000 per year for international students. DPC also offers a number of scholarships and financial aid opportunities to students who qualify.
Programs in Dubai Pharmacy College – Complete Details
Besides the B.Pharm program, there are several programs also being offered in Dubai Pharmacy College, which include:
Master of Science in Clinical Pharmacy (MPharm Clinical Pharmacy)
Certified Programs
PG in Healthcare Business Data Analytics.
Professional Regulatory Affairs Cert – GCC.
Pharmacy Licensing Preparation Program.
Pharmacovigilance GCC.
Certification
Professional Regulatory Affairs Cert – Egypt.
Medical Device Regulation Masterclass – MENA.
Admissions Requirements
 Admissions are currently open for the 2023-2024 academic year.
Scholarships and Financial Aid Based on Rank and Family:
DPCG awards merit-based scholarships to deserving undergraduate students:
The top-scoring students from various school curricula (Arabic, British, Indian, Pakistani, and American) will be chosen during the admissions period in order to receive first-year scholarships that can cover up to 50% of first-year tuition for each of the categories listed below.
For MOE, British, American, Pakistan, and Indian curricula:
1st student: 25% discount on tuition fees.
2nd student: 15% discount on tuition fees.
3rd student: 10% discount on tuition fees.
 More scholarships are also offered for 2nd and 3rd sisters registered in this Pharmacy college
Student Placement
Dubai Pharmacy College for Girls carries out an Alumni placement program where students are assisted to join prestigious names of the industry.
Where is Dubai Pharmacy College for Girls?
Located in Muhaisanah 1, Dubai, United Arab Emirates. Near to Dubai Medical University Hospital.
Facilities in Girls College of Pharmacy in Dubai
The college has a modern campus with state-of-the-art facilities, including:
Libraries
Laboratories
Seminar rooms
Clinical skills lab
Pharmacy practice unit
Sports Complex
Students Club|
MyDispense
One-of-a-kind tool to help practice pharmacy students online pharmacy simulation. Students can practically observe real prescriptions, their important data points and dispense medications checking all safety protocols applied to patient health and medication safety within a lab. It helps students to develop medication dispensing abilities.
Why you should join Dubai Pharmacy College
The Dubai Pharmacy College has a strong tradition of academic success and was the first pharmacy school in the United Arab Emirates.
The CAA, UAE Ministry of Education – Higher Education Affairs, has accredited the college.
The Bachelor of Pharmacy (BPharm) degree, the Master of Science in Clinical Pharmacy (MS Clinical Pharmacy), and the Certificate Courses in Pharmacy Practise (CPP) are just a few of the programmes
The college features a cutting-edge campus with sophisticated amenities.
DPC has a solid reputation for academic competence, and businesses have high expectations for its graduates.
Disclaimer: Information on this page is summarized from the official website of Dubai Pharmacy College for Girls. More information can be asked from the official website contact channel. Contact us and suggest a correction.