How much a doctor can earn in Norway?
If you're interested in pursuing a career as a Doctor or Physician in Norway, you might be curious about the average salary for this profession.
On average, Doctors and Physicians in Norway earn an annual salary of 3,430,000 NOK. This figure ranges from a lowest average of 1,550,000 NOK to a highest average of 5,830,000 NOK, with salaries increasing based on experience.
Typically, those with two to five years of experience earn an average of 32% more than new employees, and those with more than five years of experience earn an average of 36% more than those with less than five years of experience.
Importantly, this salary includes housing, transport, and additional benefits, making this career path an appealing option in Norway.
How many hours does a typical Norwegian doctor work in a hospital?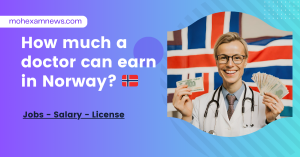 In Norway, the standard working time for any occupation is 37.5 hours. Any duration surpassing this should be temporary, aligning with legal guidelines.
Although unexpected temporary situations can occur, the recent agreement between the doctors' association and the state-local hospitals stipulates the following:
Shifts should not exceed 19 hours each.
Weekly working hours should not exceed 60 hours.
Every week should guarantee a minimum of 28 consecutive hours off.
A minimum of 8 hours off should be observed between two consecutive shifts.
Norwegian Doctor Compensation and Tenure Factors
In Norway, the compensation(salary) for doctors is heavily influenced by their tenure. A foundation doctor's base salary ranges from 526,300 to 529,300kr, contingent on the hospital of employment.
On the other hand, an attending physician receives between 793,500 and 855,986kr, and a specialist earns from 736,000 to 740,000kr.
Typically, you'll experience a pay increase each year, and these figures represent the minimum entitlement.
In Stavanger, there is a standard annual increment of 16,000kr for any educated role within the public sector. Personally, working in the public sector, I receive an additional 10,000kr annually (not in a medical capacity).
Essentially, if you plan to work there for a decade, you can anticipate an approximate increase of 100,000 to 200,000kr atop the minimum pay.